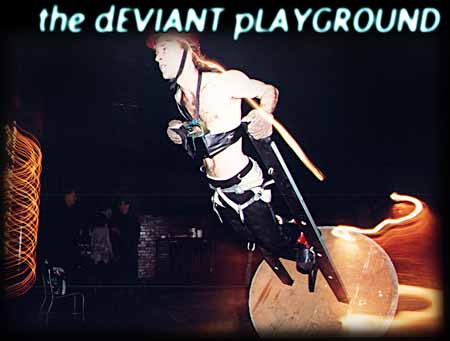 1. WEEBLES WOBBLE (SPIEGEL)

In April 1995, a community of one thousand self-proclaimed deviant people all played safely together in a one night only event. The Deviant Playground is a site-specific interactive installation (with performance art) that focuses on body art/fetish/erotic ritual wherein the artists work to create a set - The Playground - for the audience to play on.

Created on the site for the show was a central adult-sized playground with swings, seesaws, an a sandbox filled with fake snow, as well as dozens of other play related art installations and performances.



2. EPHESIAN ARTEMIS (SPIEGEL)

The event was held at the CSV Cultural Center, a late 19th-century school building turned art center on the Lower East Side of New York City. The Playground stands out from other fetish because there is no line between the audience and the performers. It has a carnival like quality: there is no main stage, all the audio and lighting is atmospheric - many performances happen simultaneously, at audience level, and no flat art or static sculpture is allowed.

The playground was a benefit for the New York Body Archive, Sandbox Magazine, and the CSV Cultural Center. The images were a presentation for Charles Gatewood, photographer/videographer of the fetish/sm/body art scene. He is producing a book that will include photographs from the show.

The Second Playground.
Quotes about the First Playground.
All photographs copyright Allan "Pogo" Spiegel for Sandbox Magazine (except #2).

1. One of the most popular props was David Brown's 'Weebles Wobble but They Don't Fall Down'. This was a massive concrete half-sphere with a few masts embedded in its flat side. Clinging to the masts, you could roll wildly on the thing and always rebound.

2. Amy Shapiro: "I was the Ephesian Artemis, a breast Goddess, a kind of warrior Goddess. (...) The breasts are not just sexual, they are nurturing, and they represent woman power."

3. Patricia Chang, Half + Half: In the corner, next to the bathroom, a topless woman is with her hands tied behind her back is sitting on a pile of bread dough about the size of an 8-year-old child. She kneads it with her feet and then, apparently bored by that, with her chin.

4. Fireplay: At the end of the night, we watched the mad hush of fire from his balls, juggling flaming batons with Stephanie Monseu, the two of them naked, dancing, breathing fire, swallowing fire.


Back to top | Second Playground | Quotes about the first Playground | Degenerate Elite ArtHost